So you have hit a critical moment in the management of your blog or website. "Facebook have blocked your domain", All your hard work to build great content is looking like it will be for nothing as your entire domain is now banned from Facebook. What can I do now? The Facebook support website seems to bring you in an endless loop and none of the information seems to work. Fear not, this is not as big of an issue as you think…well assuming you are innocent, it's not a big deal. If you have been blocked because the content of your website breaks Facebook rules, then this is not the guide for you.
You can usually tell that your website is blocked from Facebook when you attempt to share content. You will either find that the preview does not load or that you get an error message like this one
"Warning – We can't review this website because the content doesn't meet our Community Standards"
How To Get Your Website Unblocked On Facebook
So this guide will only work if you are innocent. If your site has been blocked by Facebook and you believe it is a mistake, then this guide will show you how to appeal it. More often than not, Facebook will unblock your website after 30 days or so if it is been flagged by an automated system. As far as I know, permenant bands need to be issued by a human and they are less likely to make these kinds of mistakes. Either way, mistakes happen and this is how you undo the issue.
Start by visiting the Facebook help site here. Scroll to the bottom of the page and you will see a section that says "find answers or contact support". Click the "Get Started button". Since this is a Javascript powered page, I cant share the Url, you will need to follow the steps in this tutorial instead.

Scroll down through the page and click the options you need. You may be able to find the answer already here. If not, Facebook actually has a live support system and it is very good. If you scroll to the bottom of the page you will see the option to use the chat support. If the chat support is offline, or not available in your country, you can send an email. When it happened to me, I had to send an email. Facebook called me the next day to tell me that the domain block was a false positive and that the issue had now been resolved in their system.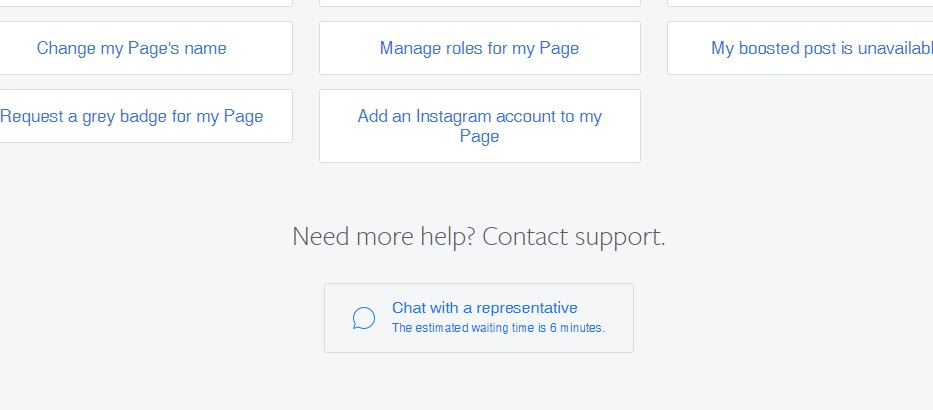 So if you are innocent and believe an automated system has accidentally blocked your domain from Facebook, this method of contacting Facebook will allow you to get it unblocked very easily.