Bingo is a very popular game of chance where a series of numbers are called out and whoever fills a card/line first can win a prize. This specific tool is a UK bingo card generator. This will generate cards or bingo tickets for 90 ball bingo. You can click this link for American Bingo Cards. This game is also known as tambola in some countries. Using the form below, set the number of cards that you want, set the card colour and click the button to generate cards. Depending on how many you want to generate, this may take a few seconds to complete. Once it has finished, you will see the preview of all of the cards that it has generated and if you are happy, you can click the print button. This will let you print out all of the randomly generated bingo cards for free!
If you are hosting a game of Bingo, you can use the free bingo number generator tool here. This will give you random numbers with the nicknames for each ball as you play to help with the announcing.
Bingo Ticket Printing
When you have generated all of the randomly generated bingo cards, you will see a button appear that will allow you to print out all of the cards. It is best to use the portrait orientation for these tickets. By default, you may see that the tickets are breaking onto the next pages. You can see some information below on how to fix this by using the scale option on your browsers printing preview page.
Prevent Cards Overlapping Onto Next Page
When printing the cards, you may find that they overlap and break onto the next page, depending on the page size. This can be fixed easily by modifying the scale of the printing. Modify this setting until you see the layout that you want. Keep in mind the tickets may be very small if you include too many on a single A4 page.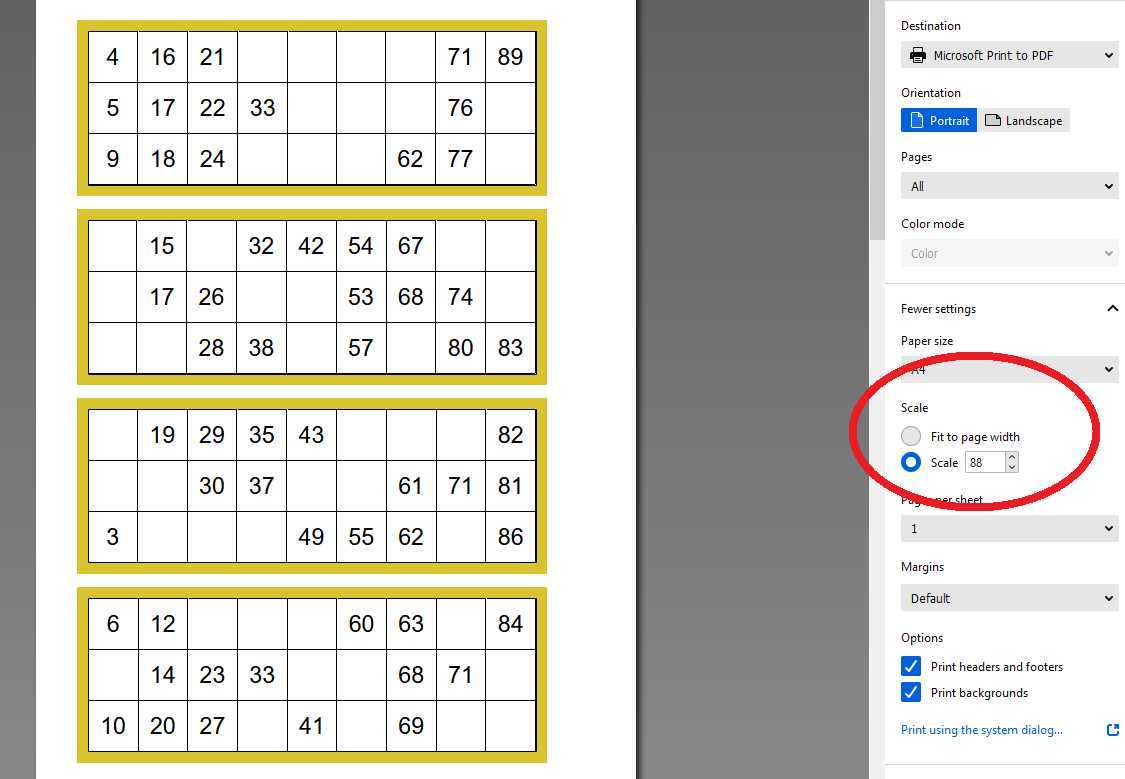 Background Color Missing